Forex trading involves the change of currency through currency pairs, usually for commerce, trading, or tourism. A recent report published by the Bank of International Settlements showed that an average of $5.1 trillion is traded daily through different types of forex trading. In the past, Forex trading was an exclusive territory for large market trading operators, but the venture is now available to the general public. Forex trading is easily accessible and requires a small deposit, which has made the market attractive for beginners and new traders. However, just like any other marketplace, adequate information is critical when you are getting into forex trading.
Forex trading on places like Forex.com can be an extremely daunting thing to do, even for the more experienced traders. When you are in a situation that you want to trade, but you are unsure about how to, there is a wealth of information on the internet. However, that can be a minefield of searing for the right information. One of the best options that you have is to buy one or more of the best Forex books for beginners and reading them from cover to cover.
The forex trading books that you will find will have different types of information about the forex market. Ranging from basic introductions to the subject, right through to technical analysis of the trading principles. While it is not the best idea to jump straight into the technical side of it, it is certainly handy to have the books to read when you get to the point that you need them. All of these books will help by telling you everything you need to know and by being a guide to successful trades from the day you start trading. 
Best Forex Books For Beginners
Knowing exactly which Forex trading books are the "best" is a little bit of a decision you have to make yourself. That is because each person will feel differently about the explanations that are in each of the books. However, we have compiled a list of various books that have withstood the test of time so that you have a variety. Most of them are easy to read, and will hopefully make money.
For the reason that I have said above, I will not be putting these into any specific order. It would be easy to put them into an order based on something such as sales volume, but that doesn't mean that all of the readers gained a significant amount of knowledge through them. So, here is a quick list of the Forex books for beginners we think will help you to become a Forex pro:
Currency Trading For Dummies (3rd Edition). - Kathleen Brooks & Brian Dolan
Trading Forex for Beginners 2020: The Advanced Guide That Will Make You the King of Forex Traders. - Martin Satoshi
Forex For Beginners. - Anna Coulling
Forex Trading for Living 2020: A Guaranteed Income for Life, Currency Trading, Foreign Exchange, Trading Strategies. - Robert Basket
Stock Market Investing for Beginners: 3 Books for Investing in 10 Days in 2019: - Stock Trading, Trading Psychology, and Forex Trading. Learn the Bases with Simple, Profitable, and Proven Strategies. - Henry Hill
How to Make a Living – Courtney Smith
Adventures of Currency Trader: A fable about trading, Courage and Doing the Right Thing - Rob Booker
A Three-Dimensional Approach to Forex Trading - Ann Coulling
Day Trading and Swing Trading the Currency Market: Technical and Fundamental Strategies to Profit from Market Moves – Kathy Lien
Trading: 4 Book in 1: A Beginner's Guide to Trading Stocks, Options, Forex and Day Trading
Forex Trading: The basics explained in simple terms
The Forex Exchange Matrix: A New Framework for Understanding Currency Movements
Encyclopedia of Chart Patterns
50 Pips a Day Forex Strategy
As you can see in our list of fourteen forex books, and from the already large number of forex traders on the list, there is a lot of information to take in. However, if you were to read everything on our list of best forex books, you would certainly find forex trading to be a lot less confusing.  
Currency Trading For Dummies (3rd Edition) - Kathleen Brooks & Brian Dolan
One of the most respected series of books in the world, the "for dummies" books have gained massive traction in teaching complete newbies a range of subjects, and their Forex trading books by Kathleen Brooks & Brian Dolan are no different.
One of the best aspects of this book is that one of the authors of the book is Brian Dolan; he has been an iconic name in the Forex market world for a long time. He started his career in 1993 as a Director/FX Trader with American Express and worked for numerous companies within similar roles. He now works as the Founder and Chief Investment Strategist for his own company, Talos Asset Management. Therefore, you know that you are going to find what you need to know and be getting a great insight into the world of Forex, including technical analysis, reading any forex books that he has written.
Some people may read that and think that Currency Trading For Dummies may be a little too intense. However, on the contrary, it is a beautiful book of forex trading that explains everything from terminology right through to strategies and Japanese candlestick charting techniques. Even some of the financial media use the book as a resource for their own publications and reference. So, not only is this book great for beginners, but it is also just as useful for seasoned traders who just need a refresher.
This forex trading book will tell you everything you need to know to gain financial freedom: Fundamental analysis, currency pairs, technical indicators, common mistakes, which trading platform to use, etc. It really is one of the best forex trading informational pieces in the world. 
Trading Forex for Beginners 2020: The Advanced Guide That Will Make You the King of Forex Traders
Martin Satoshi may not have quite the same standing as Brian Dolan does, but that certainly doesn't mean that this book is not worth the money. Some may think that the book has sold so well because of the name Satoshi. However, that is certainly not to be mistaken for Satoshi Nakamoto. While a book written by Mr. Nakamoto would be one of the best reads out there, it may not help in the realm of Forex trading strategies anywhere near as much as this Forex for Beginners book does.
As you can see by the cover, Martin claims that the book will teach you from beginner through to becoming the king of technical analysis and Forex trading. Again, it includes Japanese candlestick charting techniques, too. While that seems like a little overstatement of the book, it is only as good as the action that the reader takes. Having said that, though, there are a vast number of methods that you can use in this book, and they are arguably more up to date than any of the other books in this article. This book is a complete guide to help you start trading and become a profitable trader. This really is one of the best Forex trading books available.
If you look hard enough, you can get this at a fraction of the price of the others, too. Therefore, we think that you would be missing out on some of the best forex trading strategies by not checking this book out.
Forex For Beginners
Next on the list of best forex books is Anna Couling. She has been regularly interviewed and published because of her expertise in trading, and that stands you in good stead for learning from her books. While Forex for beginners is not the only book she has written, it is undoubtedly one of the more prominent in the realms of learning Forex as a beginner.  This book is also aimed at getting you from a beginner to at least an intermediate trader, and it is written so well that it may take you further than that, too.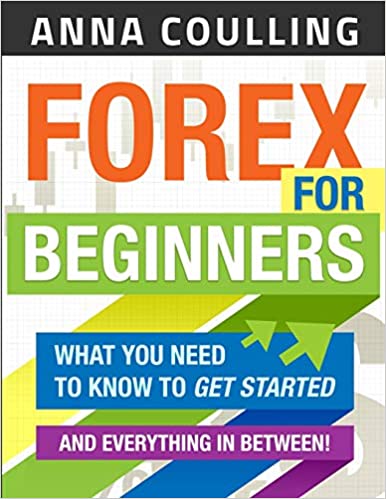 As the title suggests, you can go into this book completely blind to the meanings of the terminology around Forex, and you can come out the other side with a solid understanding of it. In fact, the book has a single question on the first page: Who is this book for? Part of the answer says it is:
To explain in a simple, clear and logical way, everything you need to understand, to get started.
The forex for beginners book is one of the best forex trading books on the market. Yet another book that goes through everything from what the forex market is, fundamental analysis, technical indicators, common mistakes, which trading platform to use, etc. It starts with a "What is Forex Trading" chapter, right through to explaining how to use the MT4 platform and how to trade with it and everything in between. Therefore, you know that this is going to be a useful weapon in the Forex arsenal of any trader.
Forex Trading for Living 2020
Robert writes this book in such a way that any beginner can pick it up and learn something about Forex trading strategies. Even if you have read all of the other books in this article, this is still one of the best forex trading books available, and should not pass you by like a trading opportunity. While you are reading it, you can see that it is written with a beginner's mentality in mind. However, the concepts, ideas, and analysis that it goes into are not only for the beginner.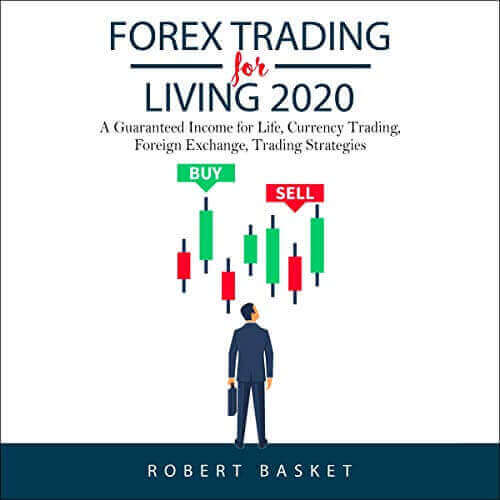 There are five main sections to this book, and they are:
How to start forex trading
The history of Forex an currency exchange
How to achieve financial stability by trading currencies
How to develop good chart reading skills
How to become an emotionally balanced buyer and not losing money due to emotions
There are a few of these that I find to be extraordinarily useful to beginner forex traders. For example, your chart reading skills probably need brushing upon, and emotions are extremely dangerous when it comes to forex trading. So, even if you only buy the book for those two sections, this will not be a waste of money.
Like most of the other books, Robert gives his views on various things such as technical analysis, swing trading the currency, currency trading in general, Forex brokers, etc.  
Stock Market Investing for Beginners
Two of the best Forex books for beginners all in one, with an added bonus of stock trading, too. While a lot of the books that you can find are more of a "one-track mind" when it comes to options within Forex, this book is slightly different. It covers the fundamentals and technical analysis aspects of Forex, but it also includes the lesser covered topic of trading psychology. If you have read about the  Forex Trading for Living 2020 book above, then you will know that emotions are a huge downfall to many people.
The psychology book within this trio is worth buying alone. However, as it comes with Henry's view on the Forex markets, too, you don't want to miss out on it.
How to Make a Living Trading Foreign Exchange
The author, Courtney Smith, chairs the Investment Mentoring Institute, an institution devoted to investor education, and is also the chief investment officer of a money management firm. Her forex trading books are of Wiley's trading series and this one was published in 2010. The writer has brought out a thorough overview of the forex market and what to expect from it in the book. It also has tons of trading strategies, including risk management, technical analysis, discipline, and psychology, which are helpful especially for trading forex beginners.
This is one trading book that puts the world of Forex Trading at your fingertips. The introduction part outlines what Forex Trading is and how it works; the next part talks about six money-making techniques. In this book, Smith also discusses a number of risk management techniques and trading psychology techniques that will keep you a step ahead of others.
Forex Books - Adventures of Currency Trader - Rob Booker
The publication by Rob Booker was released in 2007 is a reliable trading partner for both beginners and experienced forex trading experts. Unlike other trading books, the book does not focus on 'how to' content; instead, the writer brings out the success story of a fictional character called Harry Banes. If you are looking for a forex book that simple, informative and entertaining, this is the book for you.
Rob Booker brings out a series of insightful and entertaining vignettes as he brings out some hard truths about the forex markets. The fact that the book was written by a guy who survived the trenches but went on to succeed in the biggest and most competitive financial market in the world. The most crucial lesson brought out by Rob is that forex marketing is real; if you are willing to take it, you will reap the rewards of your patience.
Day Trading and Swing Trading the Currency Market: Technical and Fundamental Strategies to Profit from Market Moves - Kathy Lien
Through Day Trading and Swing, the Currency Market, author Kathy Lien brings out executable strategies for beginners and intermediate forex traders. In addition to written content, she illustrates some of her work through insightful videos. The writer of this book is the director of one of the leading Forex providers in the world.
All the essential technical and fundamental strategies involving interest rates, Intermarket relationships, option volatility, central bank interventions and many more. The book is divided into four sections, which include;
Explanation of how the forex markets work
A comprehensive plan on how to take advantage of short-term wings
Tested profit-making strategies
A comprehensive examination of profit pairs
Skills to navigate oversold markets
If you are a beginner in forex trading, Day Trading and Swing, the Currency Market is one of those books you should consider adding to your shelves.
A Three-Dimension Approach to Forex
The next book of forex trading is another by Anna Coulling. This book is a Forex trading book equipped with fundamental tips to sharpening your forex market trading. Coulling began teaching and publishing about Forex 17 years after trading and investing in forex trading. The fact that the author of this book is a teacher explains why complex financial terms are defined and understandably. She brings out how trends like stock, commodities and bonds affect the forex markets.
If you are aspiring to get into forex trading, this book will help you identify all the clues, signals, and technical analysis that will reveal the cash flow; after all, the financial market is all about taking calculative risks. Through this book, you will understand the principle of higher risks, higher returns and lower risks, lower returns. Reading this book will help you go into the market as an enlightened trader with confidence
This book's writer has written it with two types of audience in mind; the novice forex trader and the struggling foreign exchange trader.
Trading: 4 Book in 1: A Beginner's Guide to Trading Stocks, Options, Forex and Day Trading
When you are getting started with forex trading, this book is a perfect starting point to get all the required tips to help you navigate through the forex market with ease. In it, you will find all the answers that will teach you all the ins and outs and all other components related to the stock market.
The goal of most people getting into the forex market is to make profits; this book will help you to have a better understanding of how the stock market operates and all its basics. Discover what to look for in a broker, understand trading psychologies and learn the effective, time-tested trading strategies. Additionally, the writer has explained the best trading practices, pitfalls, and other relevant information about forex trading.
Forex Trading: The Basics Explained in Simple Terms
As the title, Forex Trading: the basics explained, indicates, the writer of this book aims at giving beginners the basics of forex trading. If you are thinking of kickstarting your forex trade business, this is one of the best books for beginners on the market that breaks down Forex Trading basics in simple terms. The writer's choice of words is amazing and does not require a lot of thinking or consultation.
The book opens your mind as it helps users to create their own trading strategies. As an added advantage, the writer added one of his proven trading systems and indicators without any further cost to the readers. Some of the basics of forex trading covered by the writer of this book include;
The meaning of forex and the forex trading market
Best strategies of entrance and exits
Trading psychology
Best places to trade currencies
Selecting the best broker
The ins and outs of forex pairs
Investment Psychology Explained and Classic Strategies to Beat the Markets
The book is an easy guide focused on money and risks using a simplified system to maximize profits and reduce any losses. Forex trading expert Martin J. Pring gives expert advice on tips to navigate the market quickly. He also goes ahead to emphasize the importance of hard work, self-discipline, patients and much more.
He attempts to draw wisdom from several creative investors like Jesse Livermore, Barnard Baruch, Humphrey Neill, not forgetting his experience. In this book, Pring brings out the importance of;
Get through emotional and psychological impediments affecting decision making when trading
Choose an independent investment plan and follow it to the core
Dispense the false myths and delusions capable of dragging down your investment
Hurdle brokers and money managers
Understand the rules that separate great investors from ordinary traders
This book attempts to give the classic and proofed principles that have worked through bulls and bear market. With the help of numerous investors, you can work towards achieving success in the forex market.
Encyclopedia of Chart Patterns
The author of this 2nd edition Encyclopedia of Chart Patterns is Thomas Bulkowski. In this book, the author explains how to trade significant events, for example, quarterly earnings, retail sales, downgrades and stock upgrades. If you have no clue how to identify chart patterns, this book will work well for you; the author explains the ideal entries and exits for different designs and the number of profits to expect for earnings in percentage.
If you have been looking at trading chats and cannot comprehend what's happening, you should get this book at your library. Bulkowski gives you hard data on whether the pattern is good to invest in or not. Additionally, Larry Williams outlines the long-term and short-term secrets to succeeding in the forex trade.
50 Pips a Day Forex Strategy
The book offers extensive detail that guarantees a beginner a profit-making trading experience. It teaches beginners management skills and provides an introduction to ways of developing the best winning strategies through a trading system. The writer of this book has made it easy to understand and put everything in it into practice. Additionally, the book contains a useful guide that teaches readers how to construct a workable and profitable forex trading system.
The writer considers essential trading tools in your forex trading system and money management tools to avoid mistakes that will cost your venture. Even though forex trading involves a lot of risks, you need to learn to take calculative risks.
Other Notable Authors
Of course, talking about the best forex trading books, there will never be an end to the list. If you want to trade forex, then you will need to learn everything you can about trading the currency market, fundamental analysis, technical indicators, common mistakes, picking a trading platform, etc. The only way you are going to trade forex with confidence is to look at some of the notable forex traders. For example:
Paul Langer - Black book of forex.
Jim Brown - Forex Trading: The Basics Explained in Simple Terms
Steve Nison - The Inner Workings of Forex… And How To Trade It Like a Pro
Remember to look at the education section of Forex.com, too. There is a lot of information about the best forex trading practices, there. One thing that I would advise against, however, is to only look at the websites of forex brokers for information. They can be misleading.  
Conclusion
Usually, I would end an article with a decision on which of the books you should buy, or which product we feel is the best. However, with this article, things are a little different. That is simply because it is so difficult to decide one over the other. All of the books have points that are not covered in the other books, and we feel like there should be no stone left unturned in the unpredictable area of Forex trading.
There is no single best book of forex trading, but there are great forex traders. That is because the financial markets are so vase, and currency trading is so varied. One of the best pieces of advice that I can give to you is to let an already profitable trader be your guide to successful financial freedom through fundamental analysis, technical indicators, currency trading, and the best currency pairs that you can start with. Of course, there are no forex trading books that will walk you through the financial markets without you having to do some work yourself. Unfortunately, you have to read as many forex books for beginners as you can.
If you are serious about learning through Forex trading books, and you are anything other than a seasoned pro, you should have all of these books in your library. Keeping in mind that different people have their unique sense of preference, having a collation of all these books will give you everything that you need to know to get started and become a successful Forex trader.